98 Real Estate Group
Apalachicola Bay Inn
Apalachicola River Catfish Tournament Trail
Apalachicola.biz
ApalachicolaFlorida.info
ApalachicolaHomes.net
Ausley & McMullen, P.A.
Bay City Lodge, Inc.
Bay Point Marina
BayNavigator.com
Beach Realty of Cape San Blas, Inc.
Ben's Photos
Bluewater iNet Group, LLC
Bluewater Outriggers
Bottoms Up Fishing Tournament
Burke & Co. Real Estate Group, LLC
Cape San Blas Inn
Cape San Blas Lighthouse
Cape San Blas Realty
Cape San Blas Vacation Rentals
Cape Trading Post
CapeSanBlas.info
Capt. Clint's Pontoon Boat Rentals
Captain's Containers, LLC
Captain's Cove Marina
Carpet Country
Carrabelle Boat Club
Century 21/Collins Realty, Inc.
Charisma Charters
City of Port St. Joe
Coastal Concierge LLC
Coastal Design & Landscaping
Coastal Marina Management
Collins Construction and Sewage Treatment Services
Collins Vacation Rentals, Inc.
Columbus Marina
Crest Enterprises and Land Development, Inc.
Durens Piggly Wiggly
F&B Builders, Inc.
Family Life Church
First Baptist Church of Mexico Beach
First Prebyterian Church of Port St. Joe
Florida Catfish Classic Tournaments
FloridaGulfCoastMarinas.com
Forgotten Coast Property Management & Rentals, LLC
ForgottenCoast.biz
g3 Realty Group
Gamble & Associates Construction, Inc.
Grady Market
Gulf Coast Property Services, LLC
Gulf Coast Triple Crown Championship
Gulf Coast Vacation Rentals
Gulf County Supervisor of Elections Office
Gulf County TDC
GulfCountyBusiness.com
Gunn Heating & Air Conditioning, Inc.
Happy Ours Kayak & Bike Outpost
Harmon Realty Vacation Rentals
HenryG.NET
High Cotton Affairs
Indian Pass General Store
Indian Pass Raw Bar
Joe Mama's Wood Fired Pizza
Johnene Marcum, CPA
Joyce Estes, Artist
Kaci Rhodes, Realtor
L.L. Lanier & Sons
Lady J Charters
LaPrades Marina at Lake Burton
Lighthouse Utilities
Long Avenue Baptist Church
Mariner Investment Properties, Inc.
Mentor Gadsden
Mexico Beach Artificial Reef Association
Mexico Beach Harmon Realty, Inc.
Mexico Beach Marina
Mexico Beach Offshore Classic Fishing Tournament
Mexico Beach Sundance Realty
MexicoBeach.info
MexicoBeachFL.com
MexicoBeachSales.com
Michael Billings, REALTOR
Miss Mary
My Key Photography
NAPA - St. Joe Auto Parts
Natalie Shoaf, REALTOR
Natural Element, Inc.
No Worries Vacation Rentals
Opportunity Florida
Orange Beach Billfish Classic
Orange Beach Grand Slam
Organization for Artificial Reefs
Panache Tent + Event Rentals
Panhandle 360
Paradise Coast Vacation Rentals
Pirate's Cove Marina
Port St. Joe Marina
Port St. Joe Port Authority
PortStJoe.info
Pristine Properties Vacation Rentals, LLC
Pristine Properties, LLC
Raffield Fisheries, Inc.
Reeves Furniture & Refinishing Shoppe
Roberson and Associates, PA
Robinson Brothers Guide Service
Robinson Real Estate Company
Sally Childs, Realtor
Screened Onsite
Shallow Reed
Southeastern Consulting Engineers, Inc.
Spirit of Caregiving, LLC
St. George Island Real Estate
St. George Island Realty
St. James Episcopal Church
St. Joe Natural Gas Company
St. Joe Rent-All, Nursery & Supply
St. Vincent Island Shuttle Service
Star Publishing Company
StGeorgeIslandFlorida.info
StJoeBay.info
Sugar Beach Rentals, Inc.
Suncoast Realty and Property Management
SurfMexicoBeach.com
The Appliance Solution
The Invitational
The Port Fine Wine & Spirits
The Wharf Boat & Yacht Show
The Wharf Marina
Turtle Beach Inn
Ulrich Construction
Ward's Lawn Care & Pressure Washing
Waste One
Water's Edge RV Park
Zach Ferrell
Weddings
Picture it, a backdrop only a great artist could paint. Maybe a glowing orange sunset on a sugar sand beach or the gazebo in historic Apalachicola's Lafayette Park covered with ribbons, seashells and fresh cut flowers. Not only is Franklin County a great place to come, relax and enjoy some great seafood, it its also a wedding couple's dream. Our area has many historic churches, tree-lined parks and beautiful white sand beaches that make the perfect setting for a wedding or reception.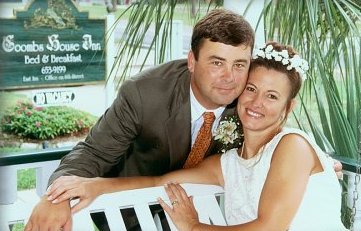 CHURCHES
Apalachicola
First United Methodist Church is located on Highway 98 and 5th Street. The present structure was built in 1901, after fire destroyed the original 1846 church. The church is available for ceremonies and has a reception hall next door. (850) 653-9530.
St. Patrick Catholic Church is located on 6th Street between Avenue C & B. The Romanesque style building was built in 1929 and has great wooden pews and beautiful stained glass windows. St. Patrick's also offers a fellowship hall that accommodates two hundred people. (850) 653-9453.
Trinity Episcopal Church is believed to be the sixth oldest church in the state of Florida, the second oldest church still holding services. It was built in 1836. Trinity's fellowship hall can be rented. The church's great steeple is a stopping point for many visitors. (850) 653-9550.
First Baptist Church was first organized in the mid-1800s. The present building was erected in 1902. The church is noted for its beautiful stained glass windows. (850) 653-9540.
Love Center Holiness Church of the Living God 151 10th Street. (850) 653-2203.
St. George Island
St. George Island United Methodist Church (850) 927-2088.
First Baptist Church (850) 927-2257.