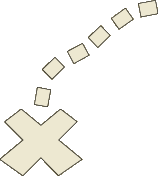 The businesses located in the Apalachicola Bay Area welcome you to what has been called Florida's Forgotten Coast, a coastal Florida paradise that YOU will never forget.

Experience the quaint charm of Historic Apalachicola with it's art galleries, antique shops, museums, bed and breakfast inns, and many fine historic homes and buildings.

Explore the scenic beauty of the barrier islands, home to some of Florida's most pristine white-sand beaches, a state park, a national wildlife refuge, a beautiful old lighthouse, and some of Florida's premier vacation accommodations.

Enjoy a peaceful walk along the bayside docks where the area's commercial fishermen unload the best seafood in the world.

Satisfy your appetite with a meal at one of the area's many superb seafood restaurants.

Located on Florida's Gulf Coast along Highway 98, this area has been spared the over-development that much of Florida has suffered. The pace here is unhurried, the crowds are non-existent, and the result is an experience you will never forget.

Please take your time. Stroll our web site slowly, savoring the experience. Return often to take in new sites as they are added, and be sure to let our businesses know that you enjoyed your visit.